When asked to share one of our favorite Cincinnati hidden gems, it didn't take us long to figure out what we would write about. Instantly we knew what it had to be...when it comes to dining-related hidden gems in Cincinnati USA, look no further than food trucks! Not only are food trucks perfect for families with picky eaters, but they are fun and affordable too! For our Livin In The Cin mission we met up with Emily Frank, owner of C'est Cheese Food Truck. On this particular evening C'est Cheese was serving up it's ooey, gooey cheesy goodness out front of MadTree Brewing in Norwood.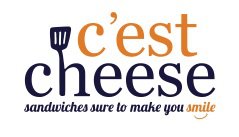 If you haven't had the chance to experience it, C'est Cheese is a food truck dedicated to serving up gourmet grilled cheese sandwiches, soups and home made pickles. All of their items are made to order while you wait. Best of all, these are no ordinary grilled cheese sandwiches. C'est Cheese takes it up a notch with ingredients like smoked gouda, caramelized onions, basil infused honey, pesto, brie and even hot dogs!
Our experience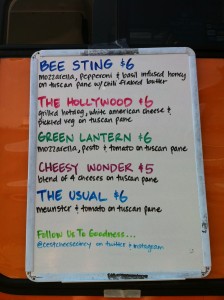 For our trip to C'est Cheese Food Truck it was myself and my two boys, ages 8 and 10. We arrived to Mad Tree Brewing around 5:30 pm and even though there was a line, it moved quickly and before you knew it, it was our turn. We were greeted by the owner, Emily Frank, whose customer service skills were impressive. Even though she was quite busy she greeted us right away and even made it a point to chat with my boys. For our order we requested a Green Lantern ($6) and two Cheesy Wonders ($5 each). The boys also each got a drink. All three of us were happy with our selections. The grilled cheeses were hot and gooey (you want to see the cheese stretch...) and tasted great. As we dug in, things got silent - always a sure sign of a good meal. The sandwiches were somewhat large and we ended up taking 1/2 of one home for Dad to eat.
When things died down, Emily was kind enough to invite the boys in to check out her truck. They'd never been in one before and thought it was pretty cool to see a mobile kitchen. Emily also took time to answer a few questions for us.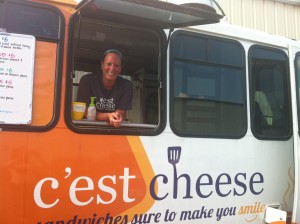 (Photo, right: Emily Frank, Owner of C'est Cheese Food Truck)
When did you start C'est Cheese?
"C'est Cheese got it's start in July of last year. It's hard to believe it, but we're actually getting ready to celebrate our one year anniversary. We'll be having a celebration on Sunday, July 28th at Mad Tree Brewing."
You can view the Anniversary party details here.
Where are people most likely to find you?
"The best way to find us is to check out our calendar at www.cestcheesecincy.com. We also post updates regularly to our Facebook and Twitter accounts."
Can people get C'est Cheese year round?
"Because of the weather, our season typically runs March - October. During that time you can usually find us serving up grilled cheeses six days a week."
Do you just go downtown?
"You can find us all over town. It's not uncommon for us to be working from office parks in Blue Ash, Milford, Anderson or West Chester. We also do the food truck rally in Covington."
When you are working from an office park, are you still open to the public?
"Absolutely! Everyone is welcome to stop by."
What is the best way to find food trucks?
"The best way to find food trucks is to check out their Facebook or Twitter feed. Most trucks will share where they are working from there. If you are looking to connect with a food truck for a private event, you can also check out the Cincinnati Food Truck Association on Facebook."
We put together a fun slideshow from our time with
C'est Cheese Food Truck.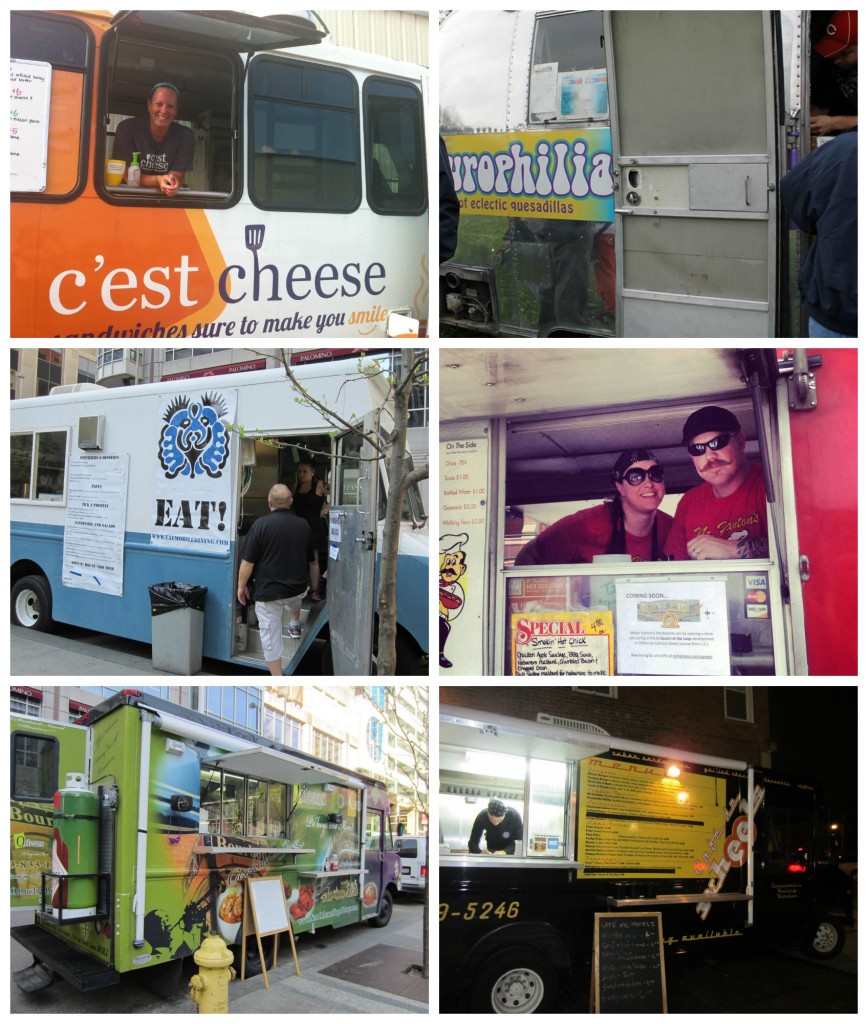 While we are big fans of C'est Cheese, Cincinnati is lucky to be home to quite a few food trucks. As a matter of fact, in doing our research for this post, we found more than 20 of them. Choices and variety are a plenty, and you are sure to find something for everyone when it comes to Food Truck dining. Some of our favorites include Bones Burgers (amazing grass-fed burgers), Cafe de Wheels (love their Cuban sandwich and sweet potato fries), Fireside Pizza Wagon (they have this pear/Gorgonzola pizza...OMG), Queen City Cookies (SO.GOOD) and SugarSnap! Truck (cupcakes to die for).
Food trucks can be found all over town. We frequent them at Washington Park as well as at various events such as Crafty Supermarket. You can even find them at Farmer's Markets and at Findlay Market.
If after reading this you're wanting to check out food trucks for yourself, check out this comprehensive listing of Cincinnati food trucks we put together on Family Friendly Cincinnati: Cincinnati Food Trucks Directory.
Photo credit: Some photos were obtained from Facebook pages of the respective trucks.